There is so much discussion about politics in Kosovo that it is difficult for anyone to be excluded and impartial. Found in this environment where politics is the inevitable conversation of the day, Stefan van Dijk has found it impossible not to get involved. He is a Dutchman living in Kosovo. He is a consultant by profession. Has a consulting company for foreign businesses. But he decided to help Vjosa Osmani for free. In an interview with the Insajderi Online Media, Van Dijk tells why he chose Osmani.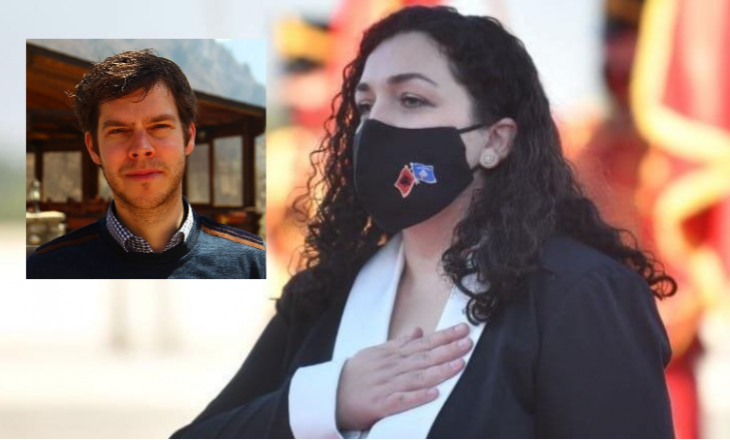 The 36-year-old Dutchman, Stefan van Dijk, who has lived in Kosovo since 2012 and lobbies for investments through his consulting business, this time his lobbying also affects the field of politics.
He has announced that he will help the acting president of Kosovo, Vjosa Osmani, and her team during the election campaign that is expected to start from 3d of February to 12th.
What will be his help for Osmani during this election, Van Dijk has shown in an interview for Insajderi Online Media.
"I am part of her communications team, but will help in any way that I can," said the Dutch citizen.
Asked if he has previously helped in any of the past election campaigns, Van Dijk says that although he has followed politics and been active on social media, speaking out for the good and the bad for many of the political leaders, he has never been directly involved in politics.
" Of course I have friends and contacts in different parties and organisations, and respect everyone that wants to make Kosovo a better place" van Dijk said.
But why did he choose to help Osmani?
According to the Dutch businessman, Osmani's leadership and her courage as the most voted woman in the country, is an inspiration not only for him, "but for thousands of people in Kosovo and beyond".
"I think she can really push this country forward and has done a fantastic job representing us on the international stage. And of course, I also watch with 'foreign eyes' to our country. Therefore I wanted to give her my support during this campaign".
He further explains that he expects the election campaign to start and try to show young people – especially those who are not interested in politics – as in Kosovo, but also those in the diaspora, that their engagement in politics is important.
"The future of this country and our society is in their hands and in their vote – so use it wisely," he added.
Van Dijk emphasizes that his help is to reflect on the development of the country, on the improvement of hospitals and schools in Kosovo and according to him, only people with integrity "can make this country a better place".
"In any country around the world, politics directly influences the development of the country, but I think this is particularly true here in Kosovo. Look at the state of our hospitals and the state of our schools. I've joined Osmani's team because I believe that Lista Vjosa has devoted people with integrity, who really can make this country a better place", he said.
Otherwise, van Dijk with his consulting company "KosIBC.com", deals with advising foreigners to do business in Kosovo.
He does this by administering three websites for Kosovo in the three most widely spoken languages ​​in the world: Dutch, English and Spanish. /Insajderi.com